Bumpy Start yet Blissful Beginning

by Andy K. Yu (aka An-Man
)

2/17/200710:50 PM
East Rising Lion Dance Troupe member since 2006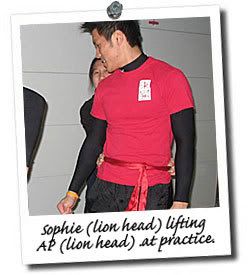 Today we have two lion dance performances to deliver for the morning at Aspen Hill Public Library and in the early evening at St. Raphael Catholic Church for the Chinese New Year (CNY) eve dinner. Frankly, I am both excited and eager about the lion dance performances today as they would be my first actual performance under the lion for 2007 although it is our troupe's second performance. Another reason to account for my enthusiasm is also the fact that it is CNY tomorrow and for a "new tail", who would not be enthusiastic? Nonetheless, another part of me is concerned about my ability to solidly deliver an excellent performance since I believe I am not ready. Looking at our troupe performance line-up that was emailed over, I see I have been delegated with many routines where I will be executing a lot of lift moves and free-styling. Although I have been practicing lifts and free-styling at my troupe's weekly practices, but never have I practiced it sufficiently enough under the lion with my new lion head partner, David.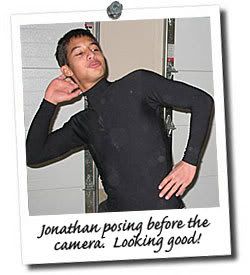 Regardless, the routines have been assigned and the performance schedule cannot be changed,the only thing I can do is hope for the best. In hope of practicing more with David, I arrived at our troupe leader "Mokyi" house 2-3 minutes pass the hour of 10:00 A.M. It was not long before Davidshowed up at the door along with the rest of my troupe members at around10:15 A.M.As soon as everyone arrived, we headed straight to Aspen Hill Library since our performance is at 11:30 A.M. I am concerned that I was not able to practice more with Davidat Mokyi's place since the only thing I had time for is to mingle a little with my partner about today's assigned routines.
Arriving at the library with our three lions Simba, Kiara, and Kovu, I was surprised at the limited space we have to perform since I believe our lions may run into each other. Furthermore, with so many kids sitting around the little area we have, I had to be careful where I was stepping on. Regardless, we were greeted with a big audience of parents and small children staring in awe of the lion heads we were holding onto as we made our way downstairs to change into our lion pants. There we had time for just one dry run without the lion costume of the whole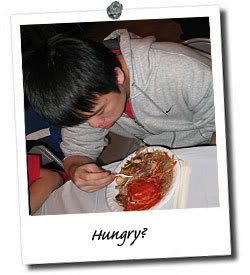 performance after we have changed. The dry-run was quick and in my honest opinion, David did very well and consistently have been making positive progress with me on our lifts (esp. one-leg spin). Nonetheless, this is where my concern is also concentrated in since these positive improvements are not made under the lion. Practicing under the lion costume and holding a lion head for me is a huge difference due to the added weight and the scarce visibility area I have with my surrounding environment. Overall, I do not know how we did as a whole troupe since I cannot see what my other lion pairs were doing. All I need to know is to focus on executing me and David's assigned routines and lifts and that is enough. David and my routines went well with the minor exception of the one-leg lift since my left foot stepped on our lion costume's end preventing him from raising the lion head all the way up. Our new lion Kiara and Kovu have belt fasteners to secure the tail part of the lion costume closely to the tail partner's waist for accidents as such. However, fastening it on and taking it off is a hassle if we need to switch over with another tail member. Do not really know what to do with this issue since the switch-over has to be quick. Perhaps after the switch-over, the lion head can freestyle in place where it will leave some time for the tail person to fasten the tail end of the costume.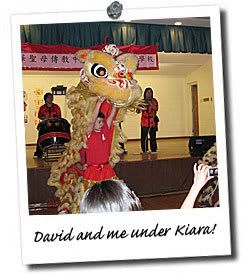 Our evening performance started at around 7:45 P.M. and I am just fortunate that I did not get a stomach cramp during the performance since lion dance follows after the dinner. Even more important, I am amazed at the amount of free-styling we had to do around the audience since it drained me out of energy (a note to all dancers out there—drink up on water and well rest yourself the night before). Additionally, it was strange whenever David stops in the middle of our free-styling that I can sense little kids "touching" my back and butt. There were even naughtier kids hitting me on the side too.<Errghh!!!>
This event was one I would never forget since there was too much foul-ups. I missed on both one-leg and two-leg lifts in our Wen-haur routine. One of our Big Buddha fell on a cartwheel, another lion pair's footwork was off on their "Mok-and–Andy" step routine, instrument team's had a slight off beat mishap between the cymbals and the drum, and the two lion heads bumped into another at the finale routine. Wow, I was analyzing our troupe performance like a judge. Like the old saying goes "If you fail to prepare, be prepare to fail". After this experience, I know I need to head back to the gym and start working out again. Moreover, I need to practice more outside of the troupe's weekly practice with David so we get used to lifting inside a lion together.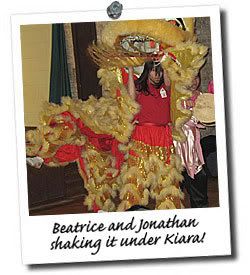 Despite the bumpy start, I am blissful and proud to be assigned to work with David, since we both enjoy lion dancing, work hard at it, communicate with each other on how certain lifts can be executed more securely, and even spent the gap we have in between the two performances in watching the National Freestyle Lion Dance Competition DVD to see how other troupes execute moves and lifts such that ours can be as professional. It will be about another five months or so that I will be reassigned to work with another lion head member since David will be off to Toronto, Canada. However, I'll make the best of my lion dance practices and performances with him for the months to come before then.